Some of us use the winter to retreat to tropical climes after a nice European surf summer to enjoy the benefits of warm water. Or how we like to call it – the Endless Summer.
Besides the money needed for it, you most of all need the time – before you even arrive at the other side of the world, at least one full day is wasted. That makes two full days including arrival and departure. The jet-lag also gives you five hard days of suffering. Then you've just adapted to the heat, overcame the bad stomach and then it's usually already time to pack up again.
And so the rest of us is left with beautiful Europe. But there are also numerous spots and waves here that run excellently in winter – France, Portugal and Spain then lure with endless, deserted beaches and line-ups.
The catch: surf fun in winter is like an exciting poker game. Weather and swell are unstable and difficult to predict. So you can either reach deep into the honeypot and find mild temperatures, off-shore winds and perfect waves – or wait out the storm of the century with three blankets in front of the oven.
So you have to wait until next spring or summer. This long time of waiting can become unbearable and so we have collected a few tips for bridging the gap.
Surf Movies
It gets melancholic – watching surf movies day in and out can seem like a dagger in the chest. But, above all, it will give you warm thoughts and keeps the stoke of your last surfing holiday fresh. The best thing about surf movies is a completely different fact – it's learning material. Watching the pros surfing gives you the opportunity to be inspired in style, technique and equipment. Not to forget all the great places & spots to see and maybe explore in the future.
The best way is to watch together on the couch, or at screenings of new movies in the cinema or at events like the Surf Film Night.
Swimming & Surf Training
The best thing you can do is to keep yourself fit throughout the winter and not have fitness gaps that you will feel and regret during your first surfing holiday of the year – before you reach the level of the previous year, your holiday is over. Go swimming to maintain mobility and strength in shoulders, chest and back. Find a surf training in your city and train the agility and strength you need for surfing. Such offers exists in many German cities by now. The great thing about it – you meet new, potential surf buddies and you can exchange experiences.
For that special kick – grab your board, your wetsuit and go on a paddle round on the nearest lake or river.
But the classic is and remains gold forever: dry pop-ups. Every day. Every.Day.
The Balance Board
The balance board has experienced a renaissance recently. It is known from functional training and was made to strengthen the secondary muscles – the muscles that sit deeper and give stability. It was used as well to train balance, as balancing your body strengthens these types of mucscles well. And your core also benefits from this when surfing. Balance on the wave is essential for your progress and so there are many different suppliers on the market who produce special surf balance boards. With these boards you can imitate the movement of the wave even better and you get the feeling of surfing even more.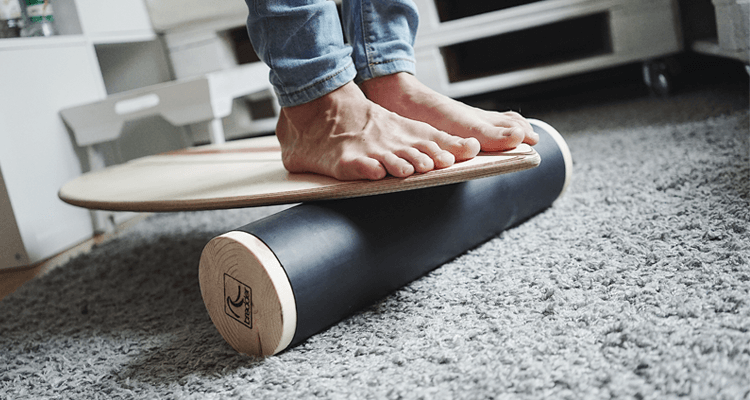 Surfing requires three different types of balance, all of which are trained when training with a balance board.
Dynamic balance: This is your balance in motion and is particularly challenging when surfing.
Temporary balance: This balance is important for your flow of movement.
Predictive Balance: It helps you to prepare your body for the appropriate surfing movements.
Because of the shaky surface you stand on, your muscles have to compensate for this instability during the entire training. As a further side effect, you will also improve your coordination and responsiveness, as you will need to be extremely attentive during training.
Skating & Longboarding
Okay, longboarding & skating are not necessarily easy in winter – with rain, snow and slippery surfaces, it's a bit tricky. But let's assume the ideal situation on a clear winter day – the sun is shining and you want to move a little outside in the fresh cold air. Grab your longboard and go for a little roll. Maybe you can even try to integrate the board into your daily (dry) ways and routines. The advantages are the same as the training on the Balance Board – only that you do something for your endurance and leg muscles as well.
Your surfing plan
Think hard about everything you took from your last surfing season. Good and bad: what went well, what did you improve, what was fun and what do you notice you need to work on. What tips did you get and what do you like about other surfers? It's important to find the balance between realistic goals and the wish where you want to go as a surfer. Surfing is fun and that is why we do it. But it is only fun because we are getting better and that is hard work and needs determination. With a clear structure in your head and a reflected view on your skills you will be able to get even more out of your next surfing holiday.
Book your surf camp & surf holiday now
To ensure that all the points from above are actually going to be effective, you should start to plan right now on where you want to go next year. Location, surf stay, surf house or Surf Camp – at the end of the year, many camps offer juicy discounts for early birds. And they are often really worth it – so, the time to book is now, really.
Da Silva Surf Camp Portugal, for example, offers you 15% off your booking from 1 week on until 31.12. 15% auf Eure Buchung ab 1 einer Woche.
For now, we wish you a happy winter and cozy holidays. We hope you get to apply a few of our tips to help you get through a surfless winter smoothly.